I've written articles in the past about getting the kind of politicians we pay for. Not necessarily what we pay for in money, but what we pay for in our dedication to the selection process in becoming informed and active, participating voting citizens. Unfortunately, we fall short in that category all too often and end up paying the price of being represented by people who are less than what we would have them be.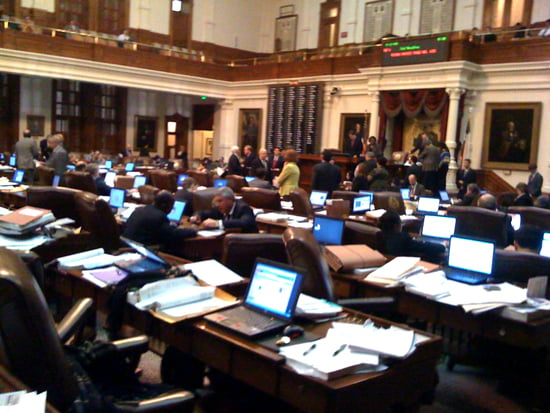 Texas Legislature House Floor [
photo by: Elise Hu]
Recent articles are appearing in various newspapers condemning members of the Texas Legislature for having double-dipped. These stories are relating instances wherein several members of the Legislature have drawn their legislative per diem for expenses and at the same time have paid rent, food and entertainment and travel costs out of their campaign funds.
While I agree that politicians need to be more circumspect than average business people, or even our average citizens, we have not treated the members of our legislature in a realistic way as far as allowing them to survive while enduring the public service of a state representative or state
senator.
It appears that many voting citizens would have elected officials take vows of poverty. I doubt seriously we would receive many qualified candidates for office if such a vow was a prerequisite for filing for office.
The Texas Constitution of 1875 set a miserly attitude toward compensating members of the legislature which continues to this day. Delegates to Texas' First Constitutional Convention after reconstruction fixed the per diem for legislators at $5.00 a day for the first 60 days of a session, and $2.00 thereafter. They were allowed a mileage rate of 20¢ per mile for traveling to and from the Capitol--
once per session
.
Texas Constitution, 1875 -Archives &
Information Services -
Texas State Library and Archives Commission
During the debate on legislative compensation and per diem, one Convention delegate proposed that the per diem be raised to $6.00 per day which reportedly invoked a retort from another delegate that if $5.00 a day wasn't enough for members then they should stay home. Many observers of the Texas Legislature still harbor such feelings about compensation for members of that august body.
A search of recorded history in the Texas Legislative Reference Library finds 20 attempts since 1875 to increase legislative compensation. Of those 20 attempts, only 4 have been successful.
For many years, legislative pay was limited to $10 per day for the first 120 days of the session, and $5.00 a day for any other days the legislature met. It remained this way until 1954 when, by constitutional amendment, legislative pay was increased to $25 a day for the first 120 days of the session and no pay thereafter.
In 1960, for the first time, legislators were granted a salary by the public through constitutional amendment. Legislative pay was authorized at $4,800 per year, $12 a day per diem, and the length of session was increased from 120 days to 140.
The current pay of the legislature is $600 per month, or $7,200 per year, and per diem is a whopping $30 a day for the full, regular session, as well as any special session. The Lieutenant Governor and Speaker of the House receive the same $7,200 a year as other members of the Texas Legislature. Mileage allowance for members of the legislature is the same rate as for other state employees set by the General Appropriations Act.
When he was the state comptroller, Bob Bullock took a major step forward on behalf of the legislature by simply ruling the state constitution allowed members of the legislature to be compensated for travel to and from Austin on a weekly basis rather than only once per session.
Price Daniel, Jr. Photo by Bill Malone.
TSLAC Current Events, Tx State Library
& Archives Commission [1973/99-12]
Until the Sharpstown scandal, perks by lobbyists were common place in Austin. It was not unusual at all for a lobbyist to offer a member of the legislature the use of his or her credit card to take a family trip, or go out for an evening at the most expensive restaurant in Austin. Following Sharpstown, when the Speaker of the House was convicted of wrongdoing, serious reforms were attempted.
Under the leadership of Price Daniel, Jr., then known as the "Reformer Speaker of the House", more openness was installed in the legislative process and stricter reforms were placed on legislators accepting the largess of special interest lobbyists. [See related article
"Daniel Urges Strong Reforms,"
The Victoria Advocate, May22-1973, page 2
]
Eventually, strict limits were placed on the amount that lobbyists could spend on member of the legislature and fairly comprehensive reporting requirements were required.
While the lobbyists' spending reforms were well intentioned, they misfired. We have gone from one poor system to another. Previously, members of the legislature were given generous gifts, meals and other perks by lobbyists. Once that became cumbersome and unwieldy for lobbyists, the fertile minds of politicians came through with a different system. Today, regular fundraisers are held throughout the off season on behalf of representatives and senators.
Almost every member of the legislature has a re-election fund or a healthy pot of campaign funds. Now, instead of having lobbyists shower members of the legislature with gifts, the lobbyists simply contribute money to the campaign funds and then members of the legislature spend it pretty much however they choose.
Virtually everyone in Austin who knows anything about the legislative process and politics knows of the system. It has been going on for at least since the late 1980's and early 1990's.
So, it appears somewhat hypocritical to me that now the press seems to be amazed that members of the legislature are dipping into their campaign funds to make life a little easier for them as they attempt to support a home in their home district and a living spot in Austin.
Texas Senate in Session - March 2009
[photo by Joseph Martin III]
Most problems for legislators come about when they fail to properly report the use of their campaign funds. What Texas needs to bring it into the 21
st
century are annual sessions and a living wage for members of the legislature, along with the strongest ethics code possible.
I am satisfied that those who defend the legislature meeting only once every two years do so because the current system leaves Texas government in the hands of the governor, special interest lobbyists, and bureaucrats for 2/3rds of the 2-year period.
I am also satisfied that the meager compensation for members of the legislature is designed, in the minds of some, to keep poor folks from serving. Is it really representative government when ordinary folks with ordinary jobs are in reality barred from serving in the state legislature?
Citizens of Texas should ask themselves whether those who would run government like an efficient business would dare to entrust their business to a manager receiving only minimum wage--and THEN attempt to budget their business for only 140 days every two years. Most likely, the average citizen would wonder what fool would even ask such a question--a little twist on getting they paid for.