There are two popular myths spread by Republicans; one is that Democrats simply are the party of "tax and spend," and second, Republicans are the "responsible" party as stewards of the public's money. Neither of these allegations will stand close inspection.
Democrats controlled the state Legislature for almost 50 years. During that time there was never a session of the Texas Legislature where Texas was in the hole as much as we are today. Recent revelations are very eye opening about whether or not Republicans trust the voting public, or whether or not the voting public should trust Republicans.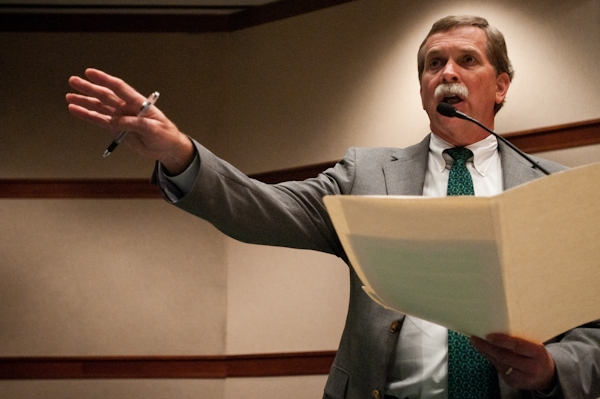 Rep. Lon Burnam (D) Ft Worth
At the beginning of each legislative session, usually the House of Representatives brings proposals for
rules changes
. Recently, a group of Democratic House members offered some very revealing proposed changes in the rules; all of which were voted down by the Republican majority. Unfortunately, these proposed
rules changes
got very little play in the mainstream press. They do, however, tell a story about trust and openness in government.
Representative Lon Burnam of Fort Worth offered a measure which would have required the budget conference committee to notify the general public ahead of time when and where they were meeting; and the meeting would have been required to be open to the public.
This modest proposal was voted down overwhelmingly by the Republican majority.
Rep. Pete Gallego (D) Alpine

Pete Gallego, longtime Representative from Alpine, proposed that all research documents having to do with spending the public's money be made available to any member of the Legislature. This too was voted down.
Even though the Republican majority now speaks as though there is no alternative to the draconian cuts in the budget, Roland Gutierrez from San Antonio offered an amendment which was also voted down by the Republican majority. He simply proposed that with any budget cut the Legislative Budget Board, a non-partisan group working for the Legislature, would be required to publish an impact statement concerning the effect such cuts would have on each county in the state.
Rep. Garnet Coleman (D) Houston

Representative Donna Howard of Austin and Garnet Coleman of Houston offered a rule which would have prohibited the state from pushing off responsibilities which would require spending on local government. The amendment of the rules would have prohibited the state passing an unfunded mandate on local government unless the state reimbursed the local government. This practice will be particularly onerous when it comes to cutting mandated Medicaid funds for cities and counties throughout the state. Local governments will face the prospect of seeing nursing homes closed and no health facilities available for the old, sick and children unless the local government wants to tax and make up the difference.
Finally, Representative Armando Walle proposed the budget bill must be published at least five days before being voted on so that each member of the Legislature could examine it thoroughly to decide on its merit.
Rep Armando Walle (D) Houston
The general public should be aware of two other revelations coming forth this week in Austin. The Governor Perry led tax reform, which was to reduce everyone's school taxes while at the same time not increase state taxes, has been declared by the state's Comptroller (our official budget estimator) to be short 5-billion dollars each year. In other words the scheme pushed by our conservative Governor to adequately fund public education while at the same time not raising taxes is leaving us 10-billion dollars in the hole every two years.
Another conservative scheme has left our highway funding in a mess. A brain child of Rick Williams, former chairman of the Transportation Commission and good pal of our governor, has left us shorthanded for the future of our highways and roads. As you know, our highways are funded solely by a tax on gasoline. This tax has not been increased in many years and its net revenue to the state is declining even though we have more and more cars on the highway. Fuel efficient automobiles are becoming more popular; therefore, fewer gallons are being used in Texas and less money is being produced for our highways and roads.
Under Perry's leadership the Highway Department was authorized by the Legislature to issue bonds and borrow money to build roads immediately. Unfortunately, much of the money was spent acquiring rights-of-way and helping scheme to have more toll roads in Texas. As a result of the borrowing and spending by our Republican administration, we now are paying more in interest on a yearly basis than is being produced for future development of roads.
It seems to me taxing and spending is certainly no worse than borrowing and spending. It's time Texans took a close look at what's happening in Austin.